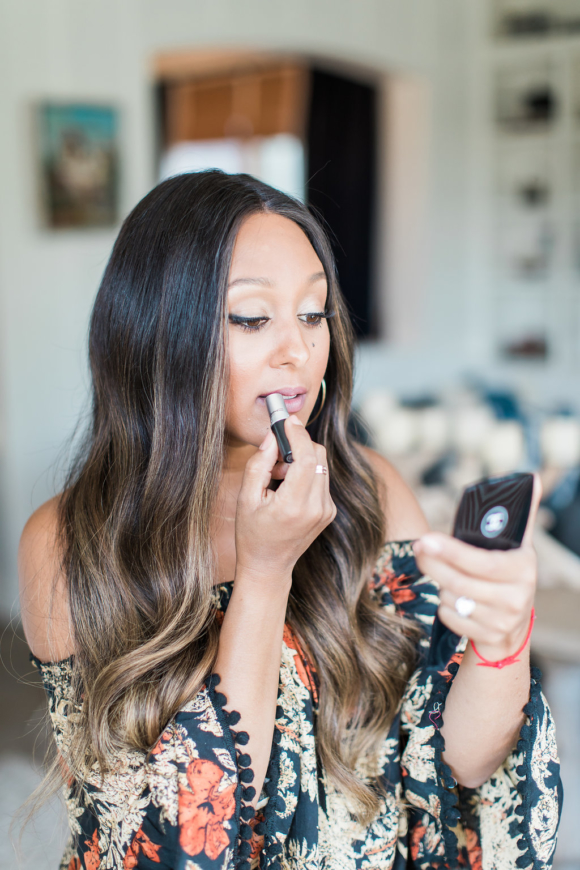 As a total lover of all things beauty, I'm always on the lookout for new products and techniques to improve my makeup skills. I have also been really fortunate to work with some incredibly talented makeup artists over the years. Whenever I get my makeup professionally done, I always watch closely to try and learn new tricks so that I can get better at creating my own glam look at home
I really wanted to share with you guys my favorite glam tips that I have learned, and that always work really well for me when I am doing my own makeup. Below are my top suggestions and products for creating a beautiful do-it-yourself glam look!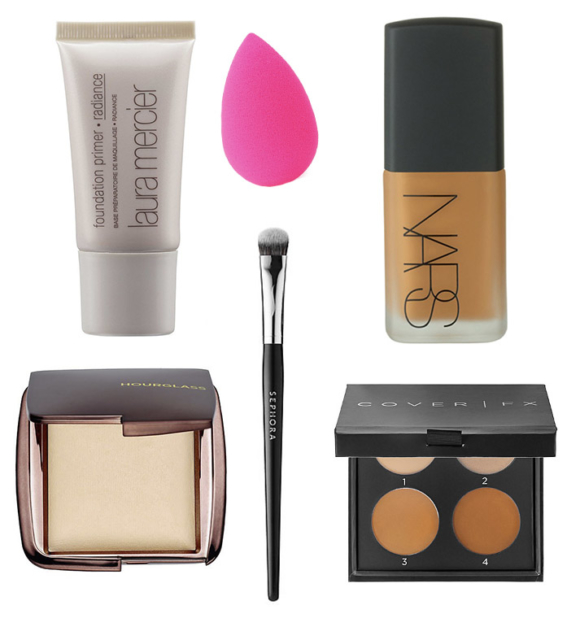 NOURISH AND HYDRATE: Beauty really does start from the inside out! Make sure that you are well nourished and hydrated before you get glam — It will absolutely show on your skin!
PREP YOUR SKIN: Starting with cleansed skin, apply a good moisturizer and primer before you do anything else. The more moisturized and prepped your skin is before applying makeup, the better your look will hold. I like to use Laura Mercier Foundation Primer.
EYE-DROPS: If you are ever tired, sick or have allergies using some eye-drops like Clear eyes Redness Relief will get rid of any redness, and will make your eyes look bright and awake.
PICK A FEATURE TO POP: I'm a girl who loves a red lip! However, if I am going to go with a bold lip, then I don't overdo the eye makeup. It looks much better to have just one facial feature that has that wow factor.
FOUNDATION: Work with a light to medium coverage foundation that you can build on so that you don't overdo it! I like to use NARS Sheer Matte Foundation, and apply it with a beauty blender sponge. Always start blending from the center of your face, and then move outward. Also, remember to blend right to your ears and down your neck a little to ensure that color and coverage are consistent.
USE CONCEALER AS AN EYE SHADOW PRIMER: Dabbing a little concealer on your eyelids works very well as an eye shadow primer, and prevents eye makeup from slipping!
USE A CONCEALER BRUSH: Concealer brushes are essential when you are covering up any little imperfections because the small bristles on the brush can get into creases that your fingers can't. I like to use the SEPHORA COLLECTION PRO Concealer Brush.
BRUSH YOUR LIPS: This one may sound a little crazy, but it works so well! Gently brush your lips with a toothbrush before applying your lipstick. The brushing will exfoliate your lips, leaving them soft and smooth.
LIPS: Apply a light layer of concealer around the outside of your lips (blend it well) before you apply your lipstick — This will prevent your lipstick from running!
DON'T FORGET TO BRONZE YOUR NECK AND SHOULDERS: Remember that if you are applying bronzer, that you need to add a light coat to your neck and also your shoulders (if they are exposed) — You want to make sure that your glow is even!
HIGHLIGHTER: I'm not a fan of over contouring, but I do love to use highlighter to add dimension and light to my face. I like to use a light powder-based highlighter and do: the bridge of my nose, the inner corners of my eyes, under the brow arches and the high points of my cheeks. Try Hourglass Ambient Lighting Powder in Diffused Light for a beautiful glow that is not too intense.
CONTOUR YOUR HAIRLINE AND JAWLINE: Adding a little bronzer to both your hairline and jawline will nicely define your face's angles and will photograph beautifully! Apply a little matte bronzer (start light!) and then blend using a beauty blender sponge. I like to use the COVER FX Contour Kit.
What are your favorite go-to tips for getting glam? Comment below and let me know!
Xx
Tamera