Shopping for men is always the hardest. You may have his interests nailed down but guys can be surprisingly specific about what they'll wear or what product they'll use (see, we're not that different!), which adds to the uncertainty. Hopefully my gift guide will inspire gifts for all the men in your life this season. I've added ideas for anyone from sports lovers to the tech obsessed… Hope this helps put your shopping right on track!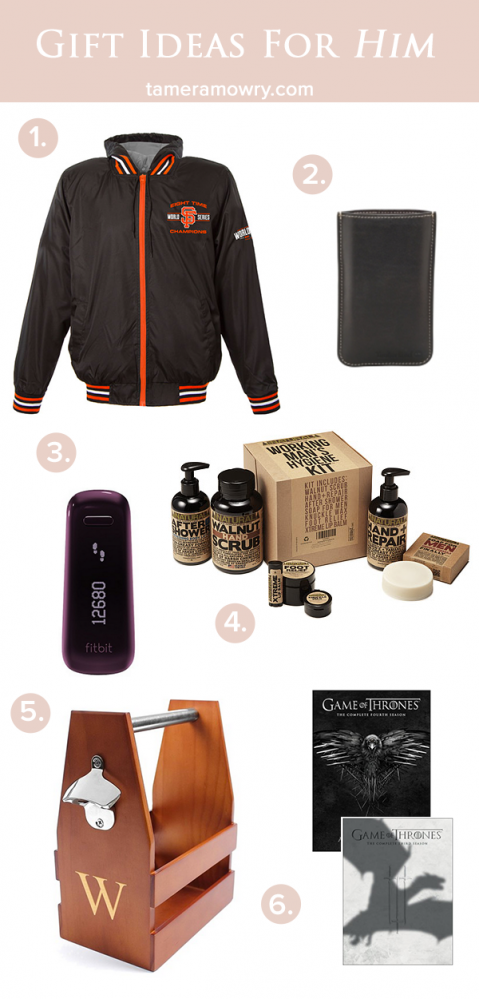 1. Sports Gear: Some guys aren't into sports, but those that are tend to go all out. Just make sure you have his favorite team right, or you'll never hear the end of it! Lol. This MLB Giants Track Jacket is nicer than your average baseball tee, but isn't too out there that'd he'd be restricted to wearing it only on game day.
2. Leather Phone Sleeve: When going for a simple gift like a phone case, try something that will really match his style. This leather phone sleeve is for the guy who wants something sleek but not too flashy.
3. Fitness Gear: If your man is into fitness, an activity tracker like the Fitbit One, which monitors activity and sleep, will be his next obsession. With a Fitbit you can track steps, calories, distance and more, as well as log food and workouts, and keep track of your sleep patterns (making for much better mornings).
4. Grooming Supplies: You don't need to book an expensive spa date to pamper your husband – a new shaving kit or grooming supplies that go above and beyond his normal routine will be a great option for anyone. The Working Man's Hygiene Kit has pretty much everything a man might need, like cleansers, moisturizers and after-shower gel. This particular kit is handmade in USA too.
5. Craft Beer Holder: A craft beer holder is a fantastic way to surprise the man who loves his brew with something a little personalized that's still fun and relaxed. With this one, you can get a monogram in any letter. Then there's the wine bottle holder for the wine buff too!
6. His Favorite Show: Still not sure what's your best option? Think about whether there's a show he's always raving about. A lot of amazing shows aren't on regular cable these days or are hard to find online, so getting him a DVD set guarantees he can watch whenever he wants. And if you're both into the same type of shows, it can be something tune into together.
What do you guys think? Do you like shopping for men?
Xx,
Tamera