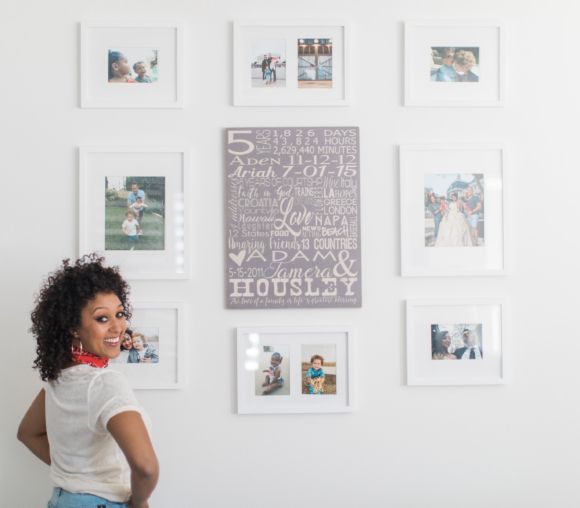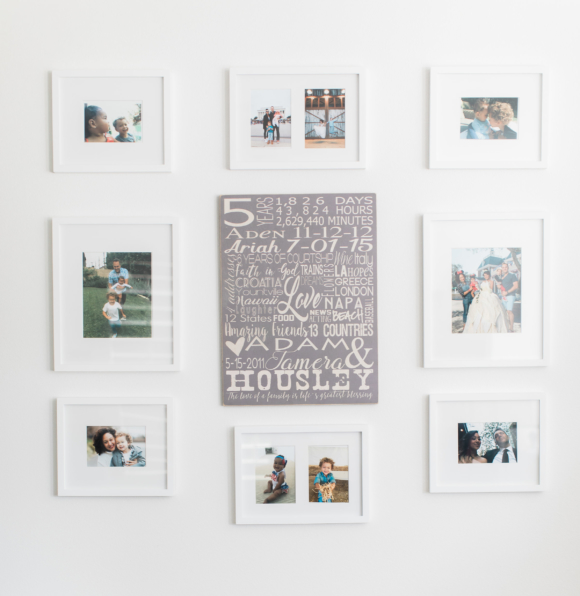 Interior design is a big passion of mine, and I especially love to take on new design projects around my home. One of my projects that seems to keep evolving is my gallery wall. When my husband Adam gave me an amazing wood plaque that was engraved with dates, names and places that were special to us, I knew that I had to do something other than just hang it on the wall. Instead, I decided to make it the focal point of my gallery wall!
Hanging a gallery wall can be challenging, but with a little planning, you can get an amazing result that looks very polished. After my own trial and error, I wanted to share with you guys the tips and tricks that I learned to create this beautiful look at home.
Choose the right location: Pick a wall that is large enough, and where the gallery will be the focal point in the room. I have mine on a big wall at the top of my stairs so it's the first thing you see as you walk up.
Pick a look: I like a clean white look for my gallery walls — Don't get me wrong, eclectic gallery walls look lovely too, but I prefer simple and neutral tones in my home.
Go for frames that have a matte: Frames that have nice big mattes give much more of a polished vibe.
Make sure each side of the wall is balanced: You don't want one side to be more frame intense than the other side. However, in design there is what they call 'the rule of thirds' that applies very well when you are  hanging art. Apartment Therapy has a great explanation on how to decorate using this rule.
Repeat each frame size at least once: To create a cohesive feel with your gallery wall, make sure that you use each frame size at least once to create some consistency.
Make sure your frames are evenly spaced: Even if you decide to have a misshapen gallery wall (which also looks awesome), ensure that your frames are all a relatively equal distance apart.
Select photos that are hold meaningful memories: I personally like to have every photo on my gallery wall be a special memory. That way, each picture has its own little story.
Add in something personal: I chose to make the amazing wood plaque the focal point of my gallery wall. I love the idea of the wall being very unique and personal to my family.
Use paper to plan out your wall: If you aren't totally sure where you want each frame to go, try using pieces of paper first to map out exactly where you will place everything. This also prevents making unnecessary holes in your wall.
Use Pinterest for ideas: Pinterest is one of the best resources for getting ideas for designing a gallery wall, you can find a ton of different tips for layouts (like in the graphic below).
What are your design tips for creating an at-home gallery wall? Let me know in the comments below!
Xx
Tamera
Pinterest image via pulptastic.com
Save