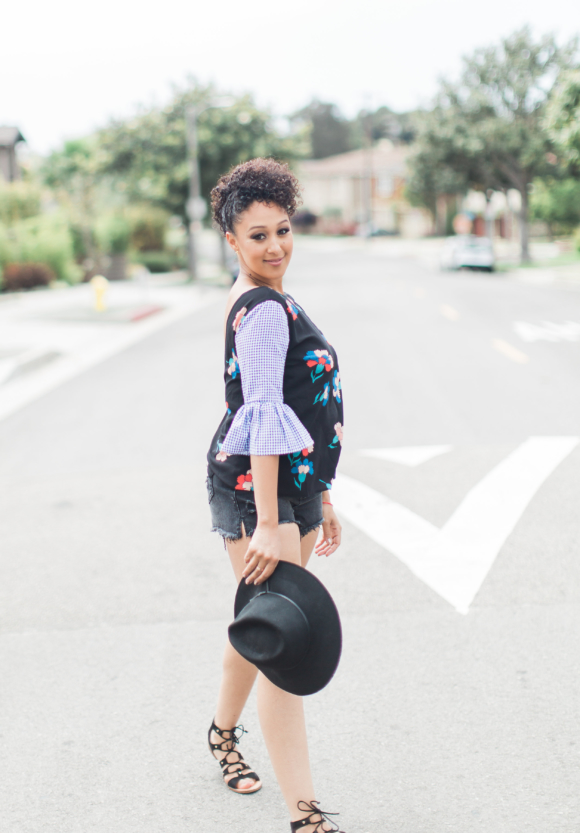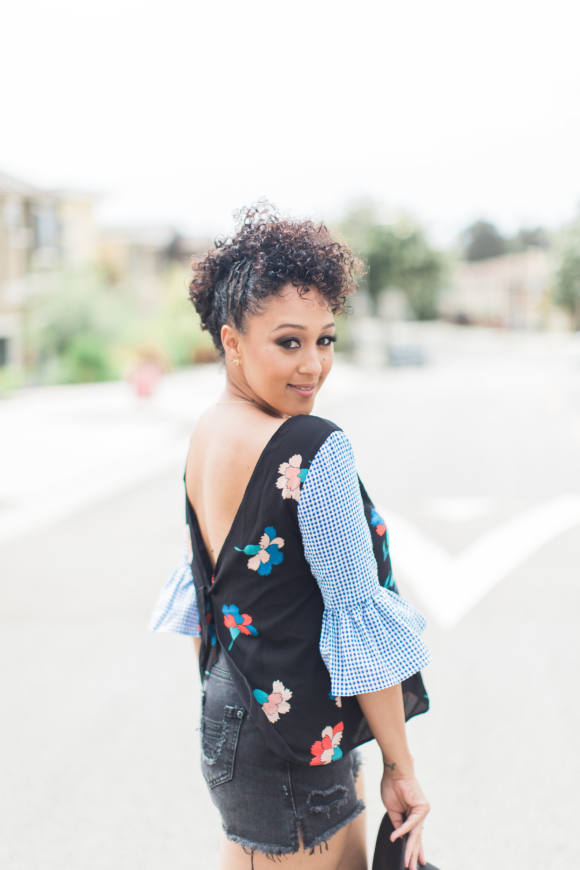 Pictured Above: TOP: ASOS Reclaimed Vintage Inspired Tie Back Top In Mixed Floral And Gingham SHORTS: ASOS New Look Raw Hem Distressed Denim Shorts – Black HAT: ASOS Felt Panama Hat With Braid Trim
This past weekend I was at BottleRock Napa Valley, and had such an awesome time! Many of you guys reached out to me on social media to ask about the outfits I was wearing, and so I decided I had to share with you all my favorite look from the festival!
I loved this outfit so much because it checked all of my festival fashion boxes: The top was playful and fun, the shorts were super comfortable, and the hat added that extra little something to tie the whole look together.
Whenever you go to any kind of all-day summer festival, you want to look fashionable, but you also want to make sure your outfit is practical. You will most likely be spending a lot of hours on your feet, and the last thing you want is to be fussing with your clothing. The first thing I do when picking out a festival outfit is make sure that my shorts and shoes are items that I have worn before, and I know won't become uncomfortable as the day goes on. I also always bring along a pair of jeans in case the weather is a little chilly — wearing layers is key at festivals.
Where I really like to have fun with festival fashion is with my top! I'm really into the dramatic sleeve trend that is happening this season. I love trying different sleeve and silhouette styles because they are an easy way to transform your look from basic to trendy without sacrificing comfort. Whether you try a puff sleeve or a bell sleeve, or go with a cut out or off the shoulder blouse – there are a ton of playful ways to wear this trend.
Finally, to tie the whole look together, I suggest adding to your outfit one bold accessory. Try a hat, a choker necklace or a pair of statement earrings that will complete your look, without being too over-the-top.
Here are a few more of my favorite summer festival-inspired pieces: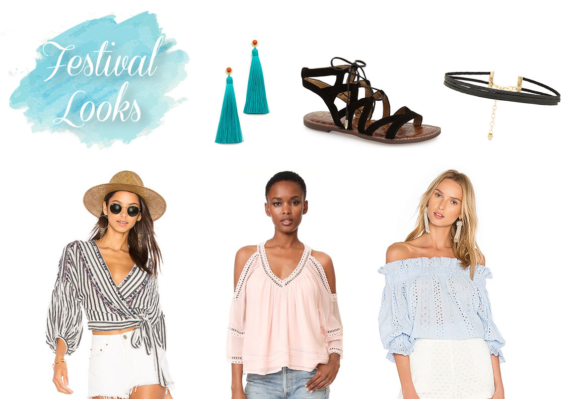 Pictured Above: EARRINGS: Gorjana Tulum Gemstone Tassel Earrings SANDALS: Gemma' Lace-Up Sandal BY SAM EDELMAN NECKLACE: Camilla Choker by: Vanessa Mooney SHIRT (FAR LEFT): Barcelona Nights Top by Free People SHIRT (CENTER): Rebecca Minkoff Deneuve Top SHIRT (FAR RIGHT): Off The Shoulder Top by Endless Rose
Let me know what your go-to summer festival looks are!
Xo
Tamera