Now that it's *officially* November, I'm realizing just how much I've missed Napa in the fall. Everything about it is perfect, but obviously one of the best things about wine country is, well, the wine. Lately seasonal pairings have been on my mind, like how to make the most of not only the abundance of fall wines, but the incredible seasonal foods and all the opportunities for entertaining November and December bring. The world of wine is straight up enormous, so if you haven't read my wine 101 post, you might want to before checking out these pairings!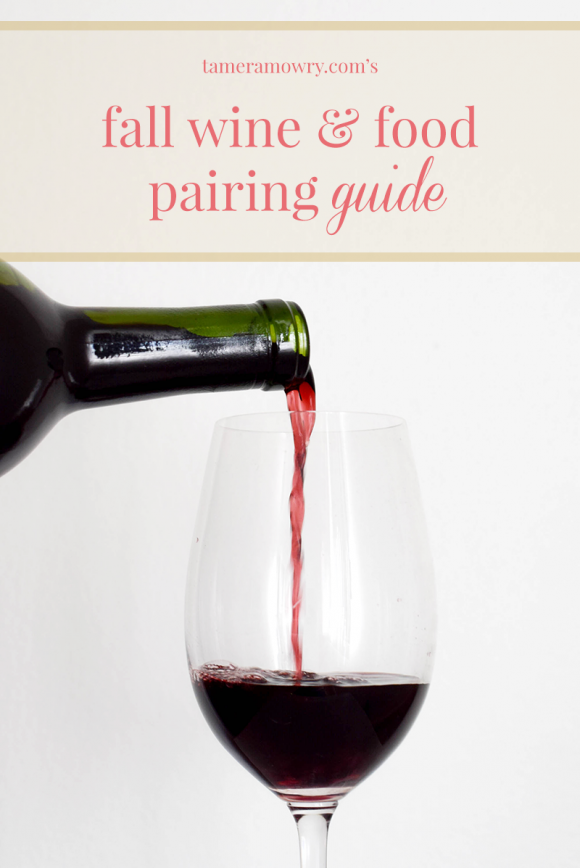 Red Wine
Reds generally scream fall because they are often richer and more robust than white wine, and pair well with hearty meals and comfort foods you see this time of year. Even so, there are a few types that really make the most of the complex, warm flavors that seasonal dinners often come with. A few choices:
Pinot Noir with pumpkin, squash, carrots, and other veggie-focused dishes, because it's a mild red that's well suited to bring out these flavors without over powering them.
Zinfandel with hearty and creamy pasta dishes, even those mushroom and fall vegetable dishes above. Again, not quite as rich as red meat, but full enough for a light red.
Cabernet, Merlot, or blend with roasts, steaks, meat-heavy dishes. This can vary quite a bit, but you essentially want to match up the richness of the meat with that of the wine so that one taste isn't overpowering the other. A pork roast for example will pair well with a red blend, while steak might be better for merlot. Also, if you're pairing with sweet sides like a cranberry on Thanksgiving, keep in mind that you may want something a little more mild like a Zinfandel to work with both.
Fall Whites
If you're a white wine drinker, don't fret! Don't overlook the power of a good white this time of year! There's actually a surprising amount of seasonal pairings to put on your shopping list, and you don't have to wait until warmer weather rolls around again. My suggestions:
Chardonnay with mushroom dishes and classic chicken-based meals. The more robust the meal is, the more full-bodied you want your white to be, so an oaky or buttery Chardonnay can be amazing. If you prefer white to red, you might try this instead of Pinot Noir with the vegetable ideas above.
Sauvignon Blanc goes well with many spring dishes but for the fall it can be paired with poultry and fish as well as cheese and charcuterie boards if you are looking for a crisper, fruitier taste than Chardonnay.
Try a Gewürztraminer, a fruity Chardonnay OR a Pinot Noir or Zinfandel for meals that contain varying levels of sweet and savory – such as those big family spreads like the ones served on turkey day. Or, opt for sparkling.
Dessert Pairings
Pinot Gris with pumpkin pie
Sparkling wine with pear dishes like tarts and pies
Riesling with apple pie (or if you'd like a red, Pinot Noir, depending on the recipe!)
And as for sparkling – we all know there are plenty of things to celebrate this time of year. Don't forget to break out the bubbly when a celebration calls for it!
Are you doing any entertaining this fall? And, what other fall topics should I cover here on my site? I'm all ears!
Xx,
Tamera