There may still be a heat wave in Los Angeles, but I'm gearing up for fall anyway. I know it's coming (not to mention the fall travel I have planned) so it's best to be prepared. Because fall isn't as predictable as summer and winter, I like to keep a few transitional staples in my closet all the time. It may seem a little strange to tote a Pumpkin Spice Latte while wearing your sunglasses, but it is necessary at times. Here are my top transitional style staples to carry with me into fall: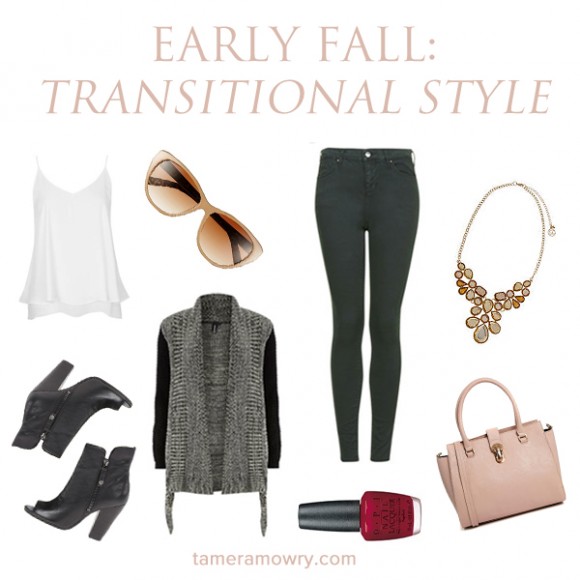 A thick, slouchy cardigan – This way, you can curl up inside it on cool mornings or leave it open and pair with a t-shirt on unseasonably warm days.
Tip: Opt for one you'll want to have by your side over the next month or so, whether tucked into your bag or in your car. Make sure you love the print and color! 
Ankle boots – Despite how loudly those riding boots in the back of my closet are calling, I save them for colder weather. Ankle boots are chic, casual and the most appropriate for this in-between seasons time of year.
Tip: Keep your fave pair of jeans in mind when choosing a pair of boots, it's likely that they'll be worn together more than anything else in your closet! 
Skinny denim – Speaking of your favorite pair of jeans, make your go-tos this season a pair of skinnies in a dark hue like black, burgundy, or forest green, and you'll be able to give any outfit in your closet a fall vibe.
Tip: If you love color, this is the perfect time to try a bold colored pant. But if you want to keep an outfit classic, a well-fitting pair of blue jeans would look fabulous here too.
A few bold jewels – Rather than going all-out with jackets and scarves, layer up with jewelry in rustic fall colors, berry hues and jewel tones.
Tip: Use jewelry and accessories to add contrast to your look – either by going lighter or darker, depending on your clothing.
A big bag – Carrying a tote or shopper bag for days you're on the go will allow you to keep an array of summer-to-fall accessories like your sweater, sunnies, and beauty products. Again, I'd go with a light color that contrasts the dark pants and top. 
What other fashion posts would you like to see on the site? Comment with your ideas! 
Xx,
Tamera
Necklace photo: Belk