We've had about two days of fall weather (I know, better break out those sweaters!) here in southern California so far. But recent trips to the east coast with more travel (at the very least, trips to Napa where it will get cooler eventually) just beg for a little indulging in all that fall brings, even if it hasn't hit the whole country. That means scarves, cozy sweaters and more! I thought it would be fun to create a mini bucket list for all the ways to soak up this stylish time of year.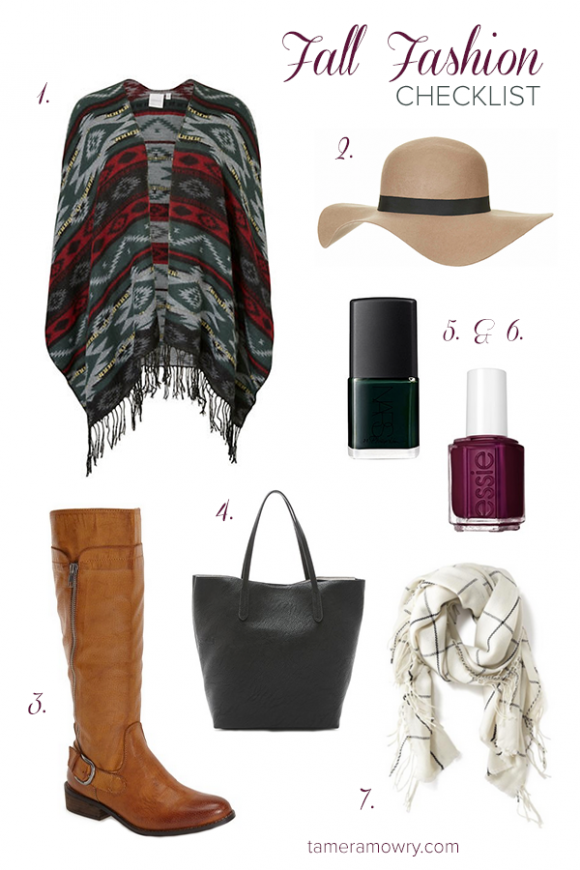 Tribal knit poncho / Topshop floppy hat / Matisse Lonnie boot / Key west tote / NARS nail polish / essie nail polish / Oversized flannel scarf
1. Knit poncho or shawl. Maybe it's because I don't want to make any huge clothing investments while working toward my mommy makeover, but I'm LOVING the slouchy, comfy couch-potato-gone-chic look (yes I said it). It's like a Snuggy you can still look fabulous in. These are a must for fall, and they're very versatile.
2. Fall hat. They're mostly just for fun, but I really love stylish hats and think that anyone can rock them this time of year – even if it's not normally your thing. With the right ensemble, it can give off that timeless, city chic appeal.
3. Boots. I relish the days I can wear a cute pair of tall boots. It isn't practical all year where I live, but a day they make an appearance is a good one. What's great about boots, whether ankle booties or knee-highs, is that if you make the investment, you really can get a few years of wear out of a single pair.
4. Big bag. Big bags are still in this time of year, but instead of toting your beach towel (and baby essentials if you're a mom), a big bag can house all your fall makeup or even a sweater to throw on for transitional days.
5. Dark nails. Fall means new nail colors. I've always had a girly style – I'm drawn to the soft feminine look of pinks and pastel hues – but when fall rolls around everything changes. These nail colors look polished and sexy for on the go and more. Right now I'm loving dark blue, forest green, vampy red and metallics.
6. Marsala. Another autumn hue to try out on everything from nails to denim to bags is the Pantone Color of the Year. When it was first announced back in December of last year, I was already looking toward spring, but now that it's October, I'm ready to embrace this stunning hue. The polish above is a bit more robust than most interpretations of Marsala, but I think anything in varying shades of "wine" or burgundy look gorgeous.
7. Oversized scarf. First it was infinity scarves, then cowls, and now it's all about the blanket scarves. And boy do these scarves live up to their name. They're huge, but as cozy as it gets, and I've seen so many fashion bloggers pulling them off with moto jackets and skinny jeans. I definitely have this one on my bucket list!
How do YOU do fall? Share your own bucket list in the comments!
Xx,
Tamera