Keeping a clean house when you have kids can prove to be difficult, especially when we're even more conscious of what we're spraying or using as cleaner in our home. There are plenty of products we could swipe across the tables to disinfect, but I don't like the idea of harsh chemicals in arms reach of Aden or Ariah, so I've incorporated other methods for keeping our house tidy and family healthy. And wouldn't you know, one of my favorite wellness items, essential oils, can be used beyond the diffuser.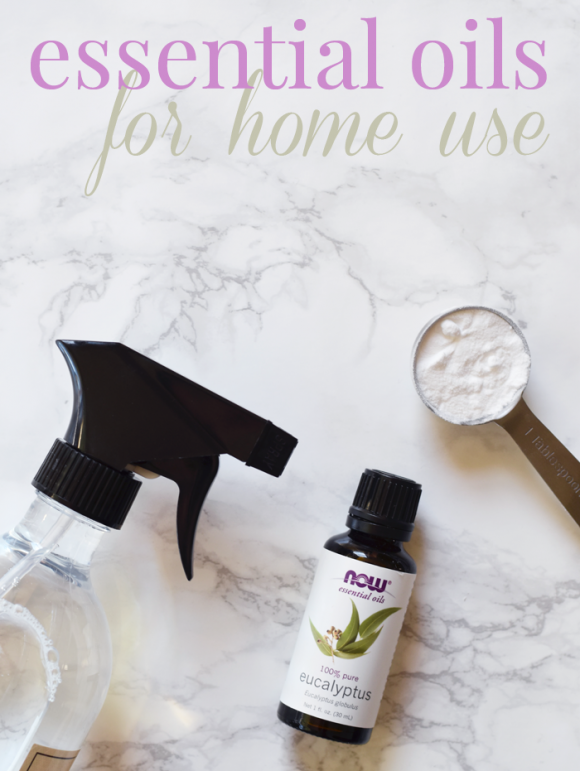 I've gushed about essential oils before–they've helped me with back pain and headaches, and created an overall calming environment in our home. So it only makes sense that these natural wonders, mixed with a few other household items, can disinfect, clean and freshen up every room in your home. Oils like tea tree and lemon are immediate go-tos for their deodorizing and purifying properties, but there are others to help you get the trick done. That is, when you actually have time to tackle the house. :) Here are a few recipes to get you started.
Windows – Heavens knows we need ours cleaned! Add 10 drops of lemon or lemongrass essential oil to 1 cup of white vinegar. Pour into a spray bottle, shake and use.
All-Purpose Cleaner – This is perfect for our marble counter tops. Add 3/4 cup of water, 1/4 cup rubbing alcohol, 10 drops of peppermint oil and a squirt of dish soap to a bottle. Shake it and spray.
Cookware – If you've cooked and a little of your meal is stuck to the pan. Combine 1/4 cup of dish soap (natural works best for being less harmful), 5 drops of clove essential oil, 1/4 cup of baking soda and a few drops of water. combine and scrub onto pan with the rough side of your sponge. Then wipe or rinse off.
Deodorizing Spray – There are so many uses for vodka. Add 1/2 cup of vodka to 10 drops of lavender essential oil. Place in a spray bottle, shake and use. You can spray your clothes or furniture and it will knock unwanted scents out!
Cleaning Stuffed Animals – Every parent can use this! Combine 2 tablespoons of baking soda with 1 drop of eucalyptus, tea tree and lavender essential oil in a Ziplock bag. Add the stuffed animal, shake and freeze. After about an hour take it out and shake off the baking soda. If the toy is very dirty, you might have to go with the full hand washing routine. Lol.
Do you make any of your own cleaners? Would love to know your recipes!
Xx,
Tamera