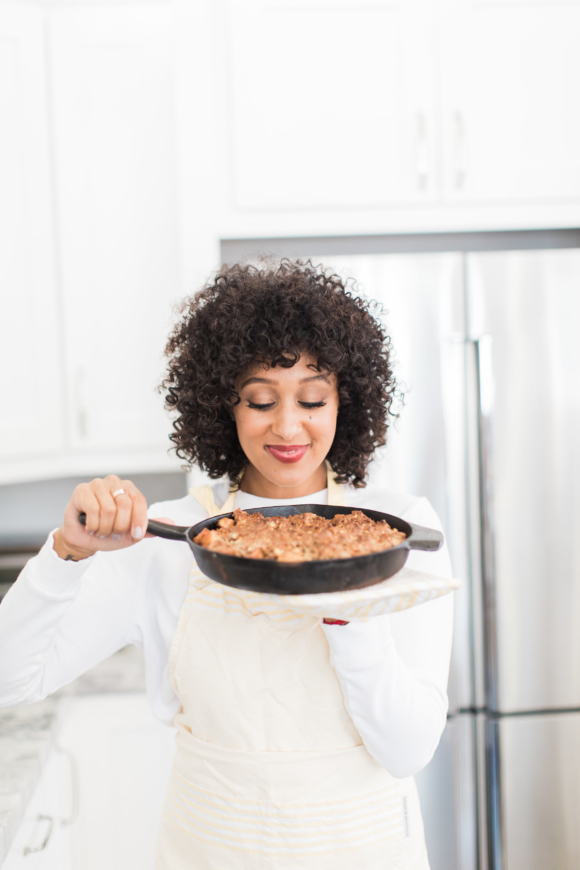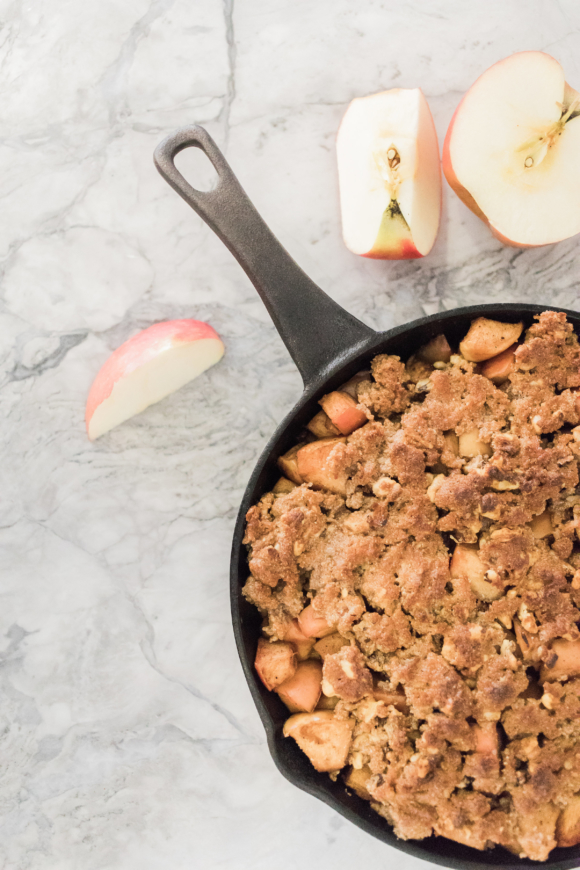 One of the many reasons I love fall is because of the baking! This time of year always inspires me to get creative in the kitchen and to use seasonal ingredients like apples and pumpkins in my recipes. I also love to experiment in the kitchen, and try out recipes ahead of time that I think would be good for Thanksgiving. However, I am also doing my best to make sure that my family and I are eating as healthy as we can. That's why I was so excited to come across this recipe for Easy Skillet Apple Crisp from Every Last Bite.
The recipe is paleo, vegan and refined sugar free — And you would seriously never know it! It is unbelievably delicious, and has just the right amount of sweetness. I love that I could serve or bring it to any holiday dinner, and it would comply with almost any dietary restriction (which is very hard to do with a dessert!). The recipe uses almond flour, walnuts and shredded coconut to create a crispy topping, that you would never know didn't have grains or dairy in it.
When I made this recipe, I prepared 1.5x the amount of topping, because my skillet was pretty large, and I needed more topping to fill it. I would recommend having extra topping ingredients on hand, just in case you find that you also need a little more.
You can also prep this recipe the night before if you need to! Simply cook your apples 80% of the way, remove the skillet from heat, and cover tightly with tin foil. For the topping, make it ahead of time, and then store it in an air-tight container in the fridge. When you are ready to finish your recipe, re-heat your apples, finish cooking them on the stovetop, and then add your crisp topping and bake in the oven.
I will definitely be making this Easy Skillet Apple Crisp again this holiday season! I hope you guys enjoy it as much as I did!
Please let me know if you make this recipe, and how it turns out for you! I would love to see!     
Xx
Tamera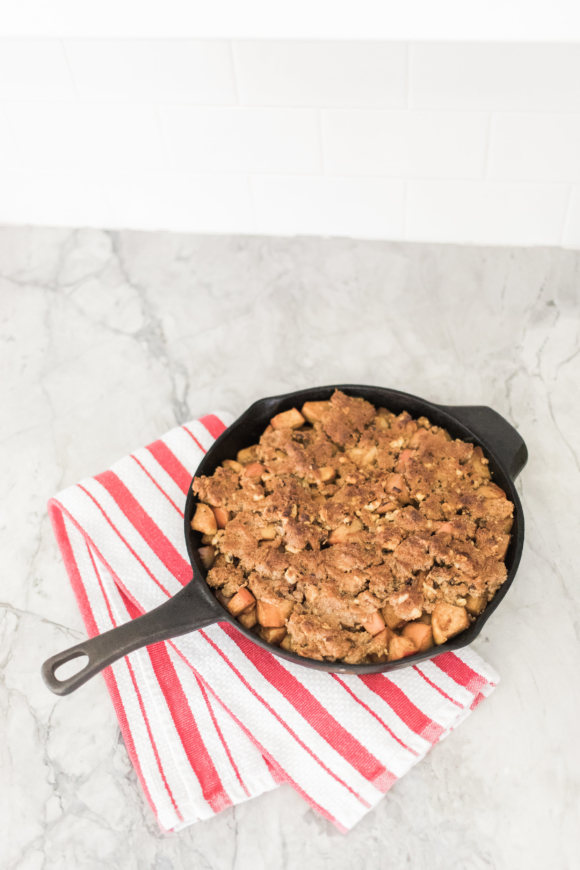 Easy Skillet Apple Crisp | Prep time 5 mins | Cook time 20 mins | Total time 25 mins | Serves: 4
Grain/Gluten Free, Dairy Free, Paleo, SCD Legal, Vegan, Refined Sugar Free
Recipe created by Every Last Bite
INGREDIENTS
Apple Filling
5 apples
Juice from ½ lemon
2 Tbsp coconut oil
11/2 Tbsp honey (or maple syrup if vegan)
1 Tsp vanilla extract
1 Tsp cinnamon
¼ Tsp nutmeg
Crisp Topping
¼ Cup coconut oil, melted
2 Tbsp honey (or maple syrup if vegan)
1 Tsp cinnamon
Pinch of salt
½ Cup almond flour
¼ Cup shredded unsweetened coconut
⅓ Cup walnuts, roughly chopped
INSTRUCTIONS
Preheat the oven to 390 degrees Fahrenheit
Peel and core the apples and cut them into small chunks. Place them in a bowl and top with the lemon juice to stop them browning.
Place the skillet on the stove on medium-high heat. Add the coconut oil, honey, vanilla extract, cinnamon and nutmeg to the skillet and cook for approximately 2 minutes until hot then add in the apple pieces and stir to coat them in the sauce.
Cook the apples for approximately 8 minutes until they are soft.
While the apples are cooking, in a bowl stir together all of the ingredients for the topping. Spoon the mixture evenly over the apples. Bake in the oven for 10 minutes until the topping is golden in color.
Serve the crisp topped with coconut whip or lemon cream