If you read my skincare secrets post, you might be looking for a way to incorporate those healthy foods into your diet more often. Well, after getting so many questions about the yummy salmon burgers that I posted on Instagram a couple weeks ago, I had to follow up! This dinner was amazing and so quick to come up with. Salmon burgers are super healthy as far as burgers go, and adding kale and broccoli not only made them more flavorful but even better for you.  And yes, your skin too!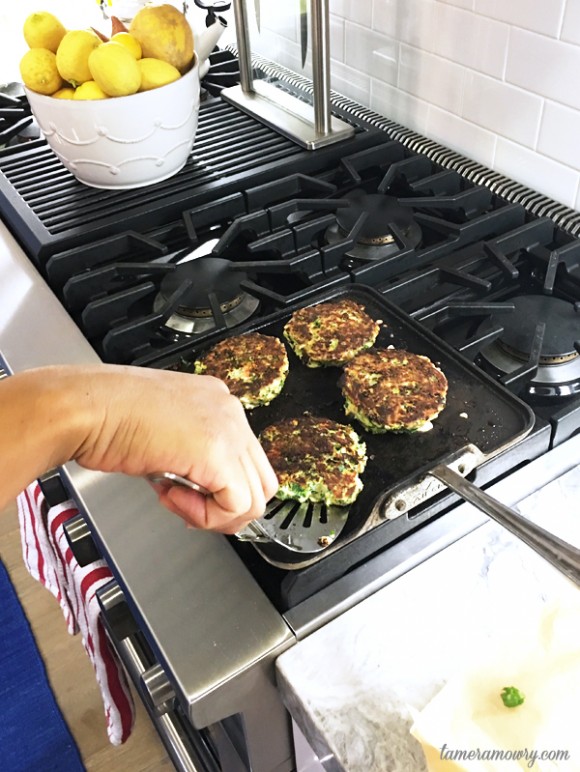 Yum!
I love browsing Pinterest for recipe inspiration. It's so easy to get caught up in day-to-day life and get stuck in a food rut. And a food rut while trying to be healthy or lose weight? The worst! So when I came across these kale and broccoli salmon burgers on Hummusapien.com, I pretty much stopped what I was doing and got cooking. See all the ingredients you need below:
1-15oz can wild salmon, drained
½ cup almond meal (or old-fashioned oats or breadcrumbs)
2 eggs
2 tbsp lemon juice
½ tsp salt
½ tsp garlic powder
pepper
1 cup very finely chopped kale
½ cup very finely chopped broccoli florets
½ cup chopped onion
½ cup finely chopped parsley
You'll be mixing it all up like this: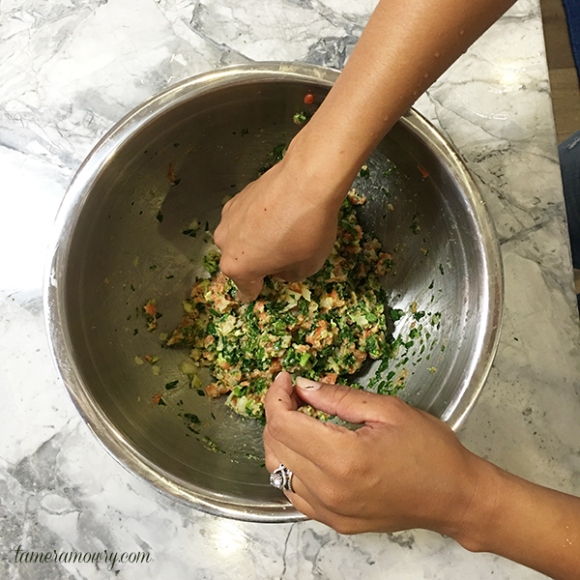 And then letting it firm up on parchment paper…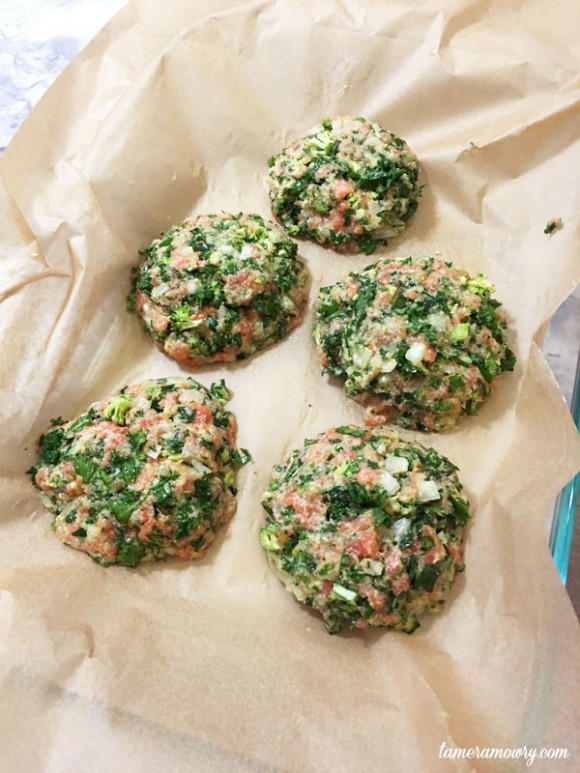 And then frying it up on the stove! Find the full directions on Hummusapien.com.
Don't be afraid of the kale and broccoli involved – this is such a simple way to get your fill of greens without feeling forced to eat a bland meal. Of course, steamed broccoli, salad or roasted veggies are natural sides for this dish but the pairing options are endless.
Let me know if you make this one… I love sharing the recipe love! And if you need another quick recipe, try this one pot pasta.
Xx,
Tamera