You all know by now just how much I love to decorate our home, but one thing we haven't talked about much are two very important spaces in the house: the kids' rooms! Just like in most homes, Aden and Ariahs' rooms are very different from the rest of the rooms in our house. I love that they each get their own space – it's something I think you can do no matter how big or small each of your little ones' rooms are, or even if they're sharing.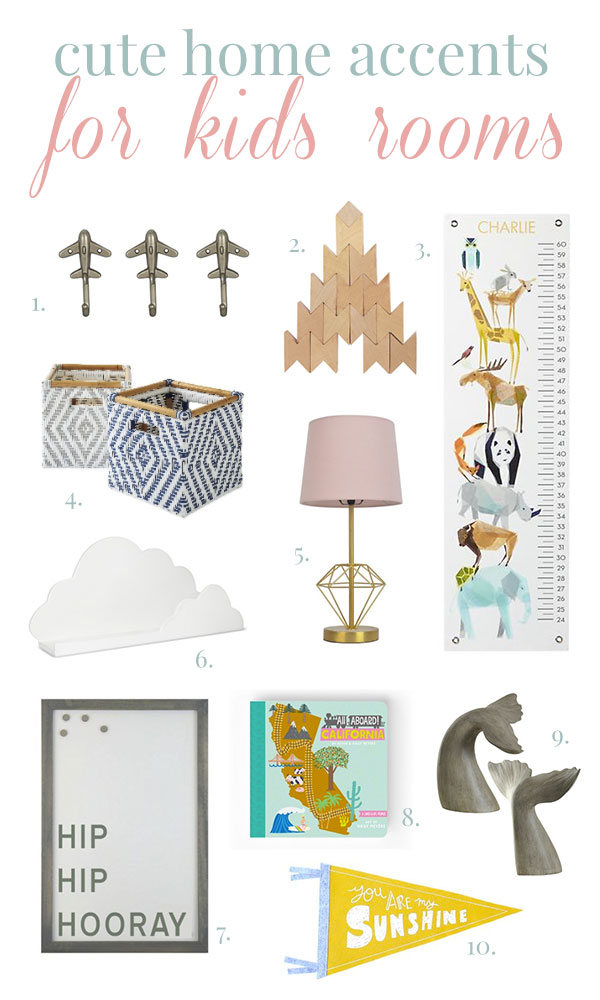 Airplane hooks / Twins building blocks / Animal friends growth chart / Diamond bins / Wire table lamp / Decorative cloud shelf / Hip hip hooray magnet board / California book / Whale tail bookends / You are my sunshine banner
I'll be posting more about kids decorating ideas in the future but I thought it was about time to share some easy, cute accents that would make any little's room more cozy, playful and polished. When decorating for kids, don't feel like you have to follow the same theme as your common areas. Find ways to play off of themes they love, like animals, sports, princess, etc., and use the rooms' accents to give it that well designed, finished look. You'd be surprised just how great something as simple as storage bins, wall hooks or shelving can be for making toys and books look more presentable. Even something as simple as putting the kids' artwork in frames that follow your style and color scheme can really transform a room. The kids may not care about those details so much as long as all their belongings are there to comfort them, but you can breathe a sigh of relief knowing the room is just as cozy and stylish as the rest of your home. It's all about compromise ;)
Do your little ones rooms' have a theme or style? Which kids interior design topics do you want to see on Tameramowry.com? Comment here or tweet them to me @tameramowrytwo. Maybe I'll have some tips for you!
Xx,
Tamera