You know what I love about fall fashion? You can get away with the comfiest, coziest duds while still looking fabulous… and boy have I wanted to take advantage of that all season long! Don't get me wrong, discovering designers and dressing up for The Real this season has been amazing, but can anything really compare to a cozy sweater and ankle boots when the day is crisp and breezy?
With a few tricks and a little shopping around, I've found that the best way to stay cozy AND chic this fall is by rocking sweaters with a little bling. There are endless ways to get the look, but here are my faves: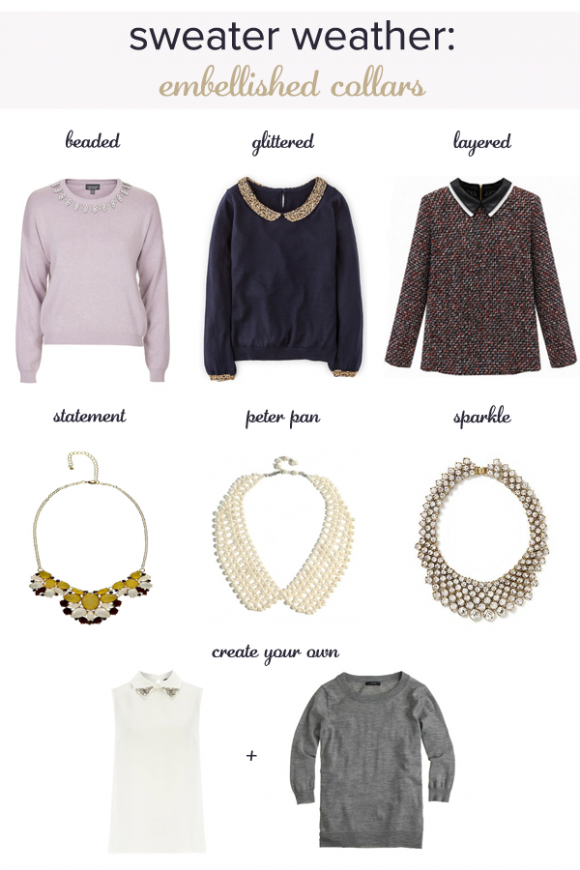 Crystal Sweater, Embellished Collar Sweater, Zip Collar Sweater, Megan Floral Collar Necklace, Pearl Collar Necklace, Crystal Collar Necklace, Ivory Embellished Top, Merino Wool Sweater
Collar Sweater – These are my favorite! Coming across that first jeweled collar led to my obsession with this look. Out of the options above, the beaded look is a little dressier, the glitter one is playful yet fancy enough for the holidays, and the layered look gives you a little edge (though it's even dressy enough to wear to work!)
Collar Necklace – Statement necklaces are in abundance these days, so you can easily find one to pair with your sweater. However, a peter pan, petal, or bib collar will give a crewneck a more tailored feel. And with the holiday season coming up, I love the idea of sparkly collar necklaces over deep-hued tops.
Create Your Own – Get this preppy look the old fashioned way by layering your blouse and collar. The trick to the perfect pairing? Matching up the neckline of your sweater with the fold of the collar. My tip is to find a blouse with a structured, pointed collar (like this gemstone top) and layer a lightweight crewneck sweater over the top. If you choose to go with a more subtle collar and sweater combo, you can even get away with layering your baubles, too.
Is anyone else rocking this look for fall??
Xx,
Tamera