Between being on camera and running around with the fam, I'm always going back and forth between the bold looks my team creates for me and a super minimal look at home. Lately, I've been experimenting with one that's the best of both worlds. I love timeless beauty so it has to go well with all occasions, yet contain a bit of a sultry side. Therefore, my go-to look this fall takes the bold eyes and glowing cheeks that I love to pair with chic boots and my curly hair and combines it with natural accents like a soft lip.
There are three things to focus on to create a fall look that's similar to this makeover by Motoko: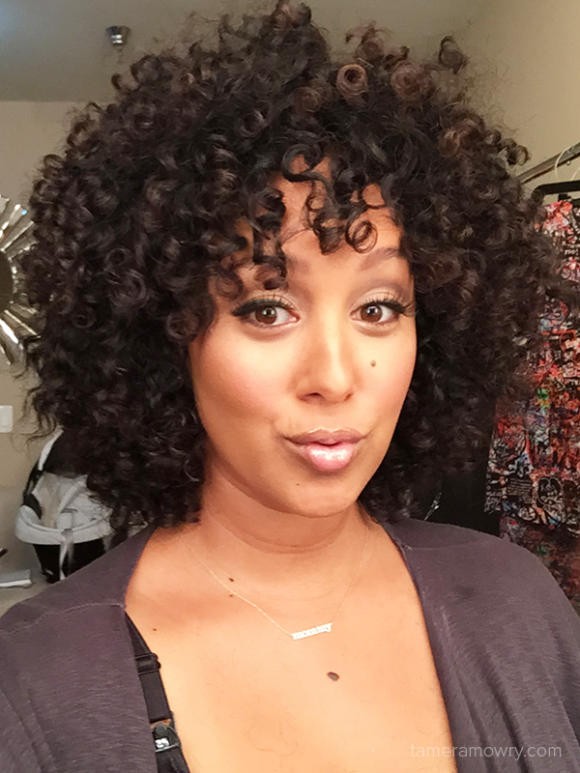 Fall Glow. Summer may be over, but I haven't put away the bronze products just yet. I love how a good glow looks with my natural hair, so it's my new go-to combo! I'm sure at some point I'll gain a new appreciation for a wintery blush, but not quite yet. To get this look, prep skin and prime using these steps from my natural beauty look post (how different did my hair look back then!?). Then, a bronzer and/or highlighter like Benefit's Sunbeam which creates a natural looking glow
Bold Eyes. A smoky eye is a popular look for fall, but this season it's all about keeping it classic rather than over the top. You can create a subtle gradient between three shades from taupe to dark brown by blending with an eye shadow blush (especially in the crease) and topping with eyeliner. For the liner, a thick, clean line looks amazing with this look. It adds a bit of oomph to the natural shadow shades. And you don't have to keep your smoky eye exclusive to the lid – a dab of brown shadow along the lower lash line creates more of a moody vibe while keeping the focus on the eye.
Soft Lip. Burgundy and red lips are the usual trends for fall, but with the glowing cheeks and bold eyes, I don't see any reason to overdo it. Who cares what they say – a soft, romantic lip color is a good idea year round, if you ask me. Make sure to moisturize lips with something like Fresh Sugar Lip Treatment or simply lip conditioner beforehand. Then, using a shade of soft pink – one of the hues from your summer lip color collection totally works – apply a coat and toss it in your bag for touchups!
PS This makeup goes perfectly with browns and blacks for fall and shiny gold accessories! Will have to update you all with more pics later.
Xx,
Tamera