The family get togethers? The yummy foods? The cozy sweaters? There are a lot of things to love about fall and I've got one more for you: gorgeous, romantic fall lip colors! As much as I love a girly bubblegum pink look and natural makeup any time of year, I can't deny how fun it is to get all dolled up with some bold eyeliner, a little blush, and of course… that classic fall tip.
To name just a few of my faves…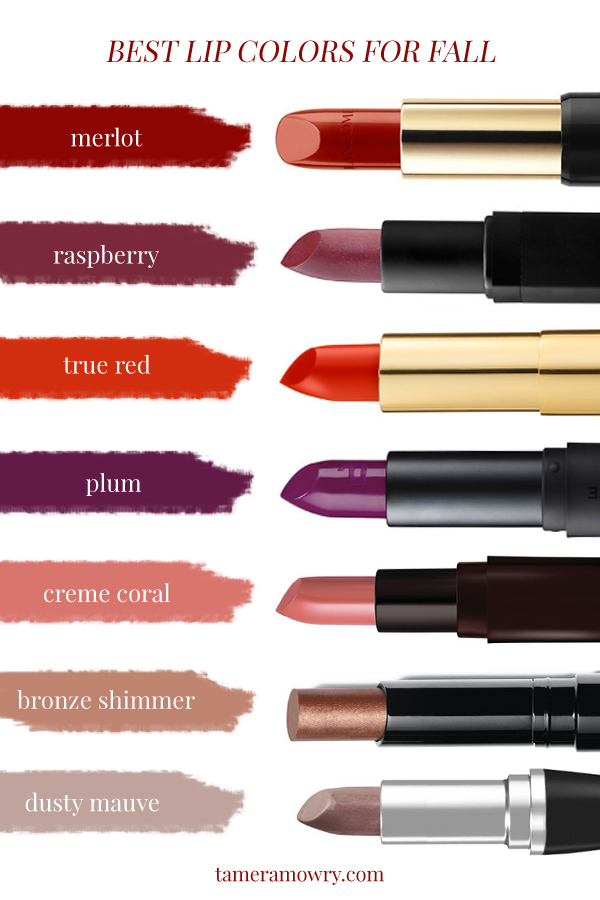 Merlot / Metallic Raspberry / True red / Plum / Crème coral / Bronze shimmer / Dusty mauve
Gotta love how many of these are inspired by food and wine, lol.
Merlot. A deep red is a must-have this time of year. Whether it's just a pop of color to pair with cozy fall fashion staples or later in the season when it's time for holiday parties, this is a color that can amplify any look! 
Raspberry. For those who like a berry lip, this one has a bit of a shimmer that makes it a little flirtier than the other reds you see this season.
True red. Speaking of red… Do you guys all have your signature red lipstick? A vibrant true red is sure to turn heads.
Plum. This plum is the boldest of the bunch, but wouldn't it look amazing with a sultry fitted dress? Try this when you're in the mood for something new.
Crème coral. Alright, no worries if you're not that bold. Makeup should only enhance your true beauty and personality, so if a more subtle hue is more your thing, go for it. This creamy coral is just the shade to wear with casual fall layers. So classic.
Bronze shimmer. An eye-catching shimmery bronze can go from day to night in an instant – it provides you with a subtle sparkle for work or errands and a sophisticated vibe during happy hour.
Dusty mauve. Fall doesn't have to be all dark colors and mystery. This dusty shade of mauve is feminine and sweet. Try this one out if you normally gravitate toward light pinks and nudes during spring and summer.
Ah, fall. Got a favorite lipstick? Share it with me in the comments!
Xx,
Tamera