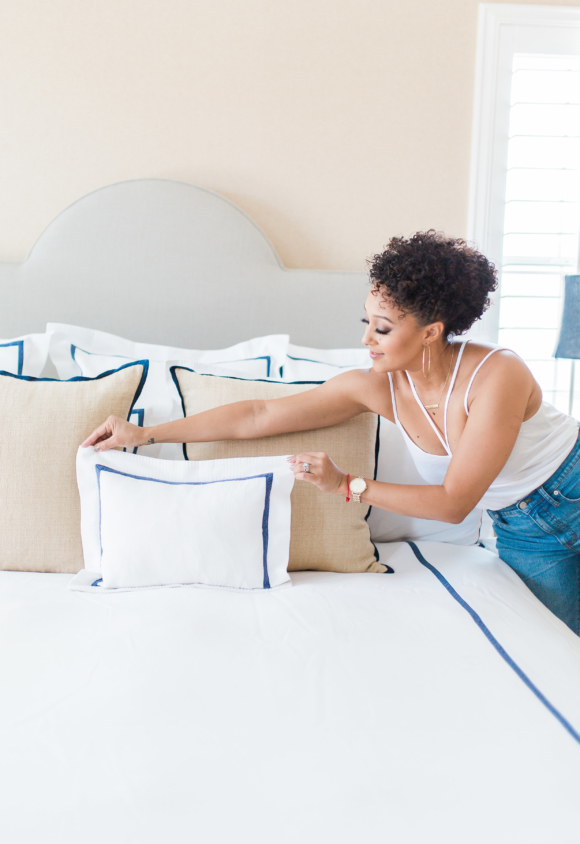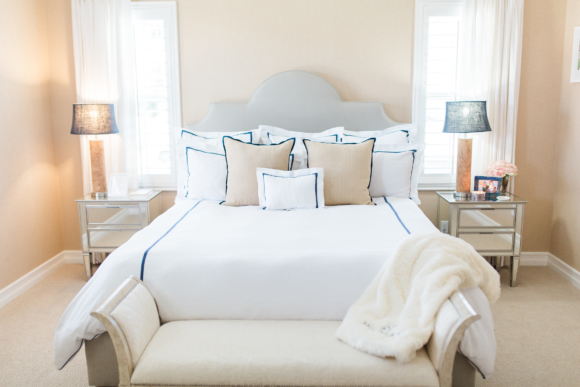 Your bedroom should be your sanctuary! We spend a lot of time in our bedrooms, so they should be a place that makes you feel peaceful. It's also the one room in your home that should be totally devoted just to you (a large feat if you have children!).
For me, my bedroom is a place where I recharge both mentally and physically. After a long day, I feel so good walking into my bedroom knowing that I can unwind and relax in there. And in the morning, I wake up inspired to start my day. Making sure that my bedroom was a sanctuary was a very deliberate effort. I added design and décor touches that both looked good, and made me feel calm and relaxed! These little décor additions don't have to be elaborate or overly expensive to make your room feel like an oasis.
Here are my tips on transforming your bedroom into a very dreamy space:
Keep the colors neutral and light — Bold colors can be way too stimulating and do not promote a relaxing vibe! If you do add color, make sure that it is in little doses. A new paint color can do wonders for changing the tone of your bedroom.
Add throw pillows — I will admit, having so many throw pillows on the bed is little bit of extra work to take off at night and then put on again each morning — But they make all the difference in creating a space that is visually appealing!
Make sure there are lots of soft things — Ideally, your sheets and bedding should be super soft and comfortable! I also like adding additional texture to my room by having a fur blanket draped over the end of my bed. It's nice to cozy up with, and it also adds depth and balance to the design of the room.
Select artwork and photos that make you happy — I have one wall of my bedroom full of pictures that hold really special memories for me. Each time I look at the photos, they make me feel happy and blessed! I like to place my photos and artwork in matching frames that complement the décor of the room.
Invest in furniture — There are so many amazing furniture options out there these days! Even Amazon sells some pretty awesome pieces. Invest in a proper headboard and night tables. These pieces anchor the room, and will instantly elevate the design.
Add flowers — Fresh or faux, flowers are one of those little design touches that really brighten up a room. I make it a habit to always keep fresh flowers in my bedroom because they make me smile every time I look at them.
Pick a calming scent — Candles create ambiance! Pick a scent that is relaxing and that you can't get enough. I love that my bedroom has signature scent.
Add a couple of decorative objects — You don't want to go overboard here, but by adding a couple decorative home décor objects, you will add personality and individuality to your room! A mirrored tray is a great place to start if you aren't sure what to add because it is functional (I place perfume on mine), and looks beautiful sitting on top of my dresser.
How do you guys make your room a sanctuary? 
Xx
Tamera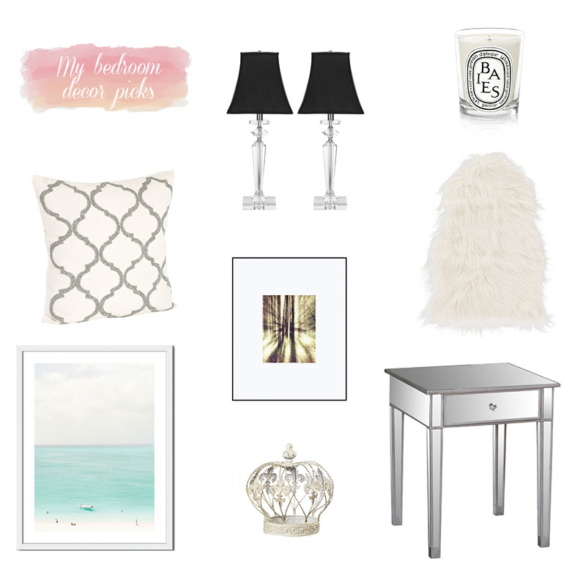 Lamps, Safavieh Lighting Black Tie Crystal Table Lamps | Candle, diptyque Paris candle in Baies / Berries | Pillow, Hensen Moroccan Design Beaded Throw Pillow | Frame, Artcare Photography Matted Picture Frame | Throw, Faux-Fur Chair Throw, White | Artwork, Minted for west elm, Island Time | Crown, Lark Manor™ Decorative Crown Figurine | End Table, Suzette 1 Drawer End Table
My bedroom was designed with the help of the very talented Shalena Smith
Save