Hey everyone! Loved all the feedback about my fall bags post when I posted on Facebook and Insta last month. I love when your comments inspire me to post about something new here on TameraMowry.com. Way back when, reader Sienna suggested I do a post on diaper bags, so I took a few moments to browse the internet for the best ones out there…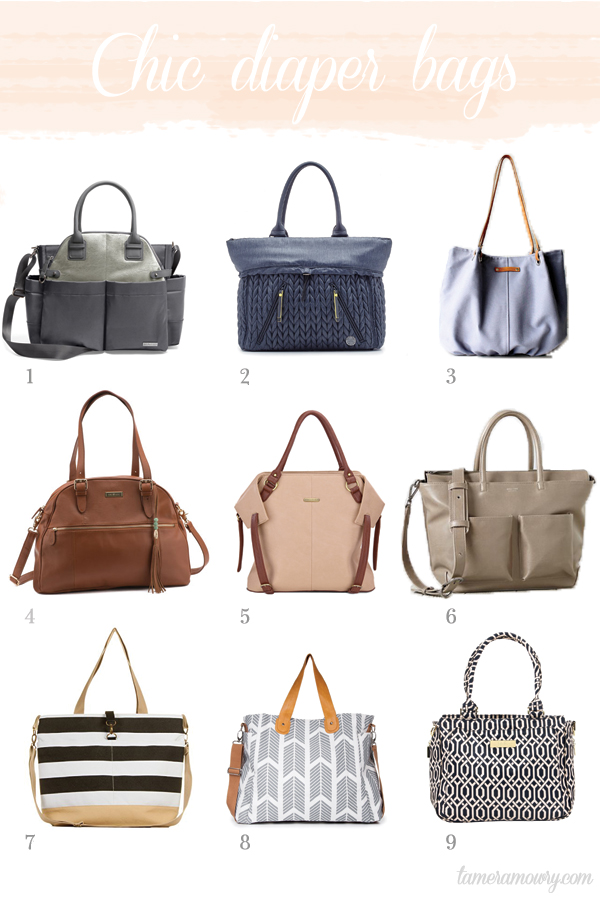 Chelsea diaper bag, Vivienne Satchelin denim herringbone, Bayan Hippo tote, Rosie camel & jade, Charlie bag in sand and cinnamon, Matt & Nat diaper bag, black & white striped diaper tote, Arrows weekender bag, Be Classy messenger diaper bag
No momma wants to throw off her entire look because she has to lug around baby's necessities. I've seen many diaper bags over the years and I can understand why they're not exactly seen as statement pieces. However, these days, retailers are really stepping it up, offering bags that provide all the functional benefits a new mom has without sacrificing style.
As tempting as it is to use an ordinary tote back to haul diapers, bottles, wipes etc. around in, having no individual compartments or zip pouches makes it really tough to stay organized (and efficient when on the go). Each of the bags above looks chic on the outside, but really delivers on your investment when it comes to how much they can hold. For example, the Charlie bag from timi & leslie (#5) is actually a 7-piece set that's not only roomy, but contains stroller straps, an insulated bottle tote, and more. The Skip Hop Chelsea bag (#1), also has a changing pad, plus 12 total pockets… Maybe all bags should be more like these diaper bags?
Moms, what's your #1 on the go accessory for baby? Share it with me in the comments below.
Xx,
Tamera