During this time of year it's so easy to think that spring is on its way and flu season is over, but a cold can hit you any time of year and as for when they're most popular – we're not out of the woods yet! Plus, the foods below, like most fruits and veggies, aren't nearly as hard as you think to get your daily quota – the vegetables can easily be whipped up and seasoned, and fruit is always a welcome treat in my book.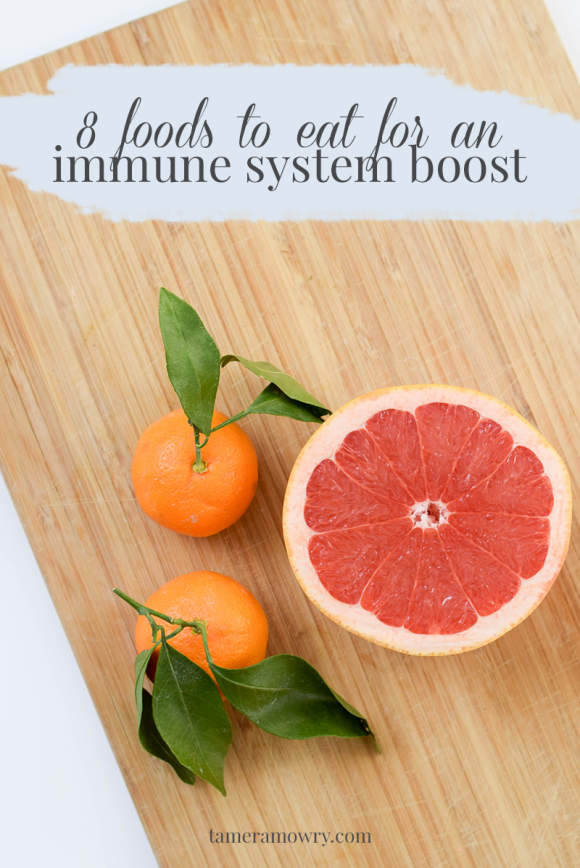 Tomatoes. Obviously citrus fruits are staples as far as cold-busting foods go, but tomatoes may be just as beneficial. They contain the antioxidant lycopene, lots of vitamins and micronutrients, as well as folate (which in general is important women – especially those expecting). Basically, tomatoes have a bit of everything, and thinking ahead, are great for your heart too. They're kind of a superfood in disguise.
Sweet Potatoes. People are finally catching on to how great sweet potatoes are for you (and how good they are, too), but do you know why they're so healthy for your immune system specifically? They've got powerful antioxidants similar to the tomatoes above, vitamin A, potassium, iron, b-6 and more.
Mushrooms. It may be a little surprising that mushrooms top this list, but depending on their variety, they can contain a ton of antioxidants, potassium and vitamins. For example, a recent study showed that a Shiitake mushroom a day enhanced the immune system. Get cooking!
Asparagus. Asparagus is seriously healthy – it's actually ranked as a top nutrient-dense food, meaning a ton of nutrients and very little calories. Not only does this veggie contain vitamins + minerals and a fair share of fiber, it breaks down toxins so they can be better filtered out of the body, which helps with inflammation and immune system health. Not everyone loves benefits, but loaded up with fresh herbs and spices, it can be a nice healthy side.
Apples. The vitamin C in apples does make it an obvious choice for fighting off colds, but that's not actually why it's so great for your immune system. Similar to asparagus, the dietary fiber content in apples makes them helpful for immunity (that fiber contains an anti-inflammatory protein that does the trick), and also contributes to why they make you feel full for so long. 
Citrus Fruits. Don't stop at oranges – grapefruit, lemon and lime are just as full of vitamin C, and thus helpful for your immune system. It's been known to help even when taken as late as the first sign of a cold. While you may want to run to a vitamin C supplement, you're actually helping just as much by indulging in a few of these delicious fruits, since once you get enough vitamin C, it's no longer absorbed in your body. 
Ginger. Ginger is a known immune system booster because of its anti-inflammatory, antioxidant, medicinal properties. It can even help with stomach pain and morning sickness in expecting mommas. You can slice it up in coins to season meats, add to tea or use dried ginger on just about everything – it's even commonly used as a supplement.
Garlic. Here's a great excuse to smother everything in one of the most flavorful foods of all: They've got a mystery nutrient called allicin, which creates antioxidants and gives it the ability to fight against free radicals. Garlic lovers will be quick to cook this one up, but if you're serious about using garlic for fighting colds – it's best eaten, yes, raw.
One of my favorite ways to scoop up many of these immune boosters in one meal is by roasting veggies for a yummy side or snack, or just munching on some citrus fruits when I'm craving something sweet!
Are you getting your fill of immune boosting eats? Read my healthy new year food swaps to improve your meals even more!
Xx,
Tamera