Most of us don't exactly get the amount or quality of sleep we really need to, and as much as we ​shouldn't rely on quick fixes, sometimes ​you need run out the door, well rested or not. Cucumber has been a famed eye savior for many years, but slicing up this veggie for your skin mostly works to calm and cool. Considering that cucumbers are 96% water, it makes sense that they'd make the ultimate eye pad. But what if you need something that not only reduces puffy eyes and wakes you up, but provides a boost of nutrition too? Enter green tea.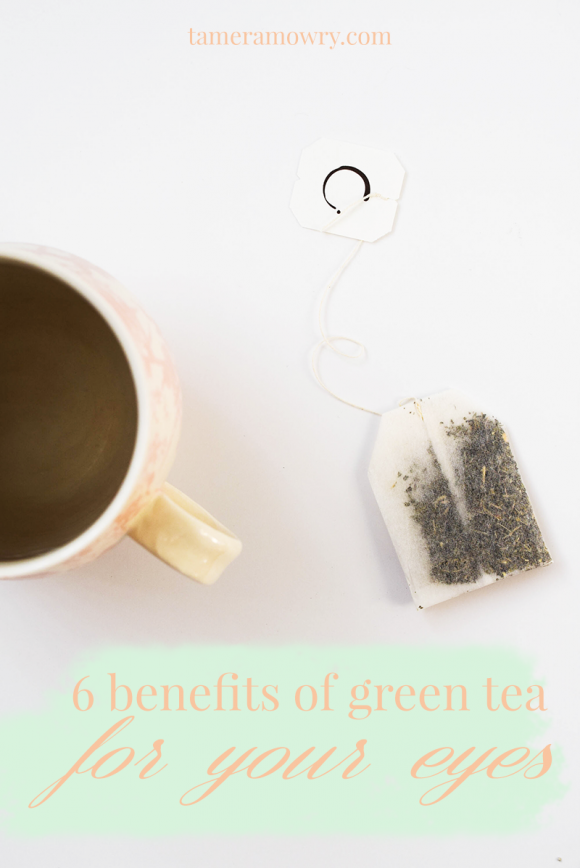 It's well known that green tea has some major health benefits, but did you know that those little tea bags can also act as a mini-spa treatment too? Here's why:
It cools. If you place the tea bags in the refrigerator after steeping to allow them to cool, you can reap the same benefits you would from a face mask – a cooling effect that instantly refreshes eyes. Fun fact: even drinking hot tea will have a cooling effect on your body, due to the increased blood flow, which I'll talk about below.
It soothes. While some people place ice cubes on eyes, it's actually too cold to soothe and may be damaging. A chilled tea bag has the perfect amount of cooling to soothe those tired eyes. Try it each morning and see how you feel! 
It brightens. Green tea extract is an ingredient in many a facial mist and toner due to its beautifying effects on skin. Not only does it soothe, but brightens the look of skin around the eyes, helping to reduce the appearance of dark spots.
It de-puffs. One of the biggest reasons to give tea a try on your eyes is because it can act as an instant de-puffer… Effectively covering up any clue that you've been stressed or had trouble sleeping the night before. Make sure your green tea contains caffeine though – caffeine is the secret ingredient that constricts blood vessels and reduces swelling.
It nourishes. Of course, we all want to look good, but it's super important that the reason we look good is because we're healthy! The vitamins (including E – a known skin saver), minerals and antioxidants make it an ideal choice of beverage, but they can also improve skin when applied topically.
It tightens. The tannins in tea can help stimulate better blood circulation, which you may be lacking after many sleepless nights (oh, motherhood). This not only helps you look more awake, but firms up the skin around eyes for younger, healthier looking peepers.
To use green tea on your eyes, try this: Steep two tea bags in hot water as package directions suggest. Wring the bags out as much as possible and allow to cool in the fridge. Once cool, place over eyes and sit back and relax. 15 minutes is all you'll need, but it won't hurt to keep them on a little longer!
Make sure to save some tea to drink up, too!  
Xx,
Tamera