If you've been watching my Instagram stories, you might've seen some of the ways Adam and I have been whipping up easy meals. Adam is definitely the breakfast pro of the house – I wish we had time to sit down to a long, homecooked meal every single morning! But with two demanding jobs and even more demanding little ones, and the desire to be as healthy as we can be, we don't opt for the classic American breakfast every day. These 6 swaps check all the boxes – cheap, healthy, easy and best of all, satisfying!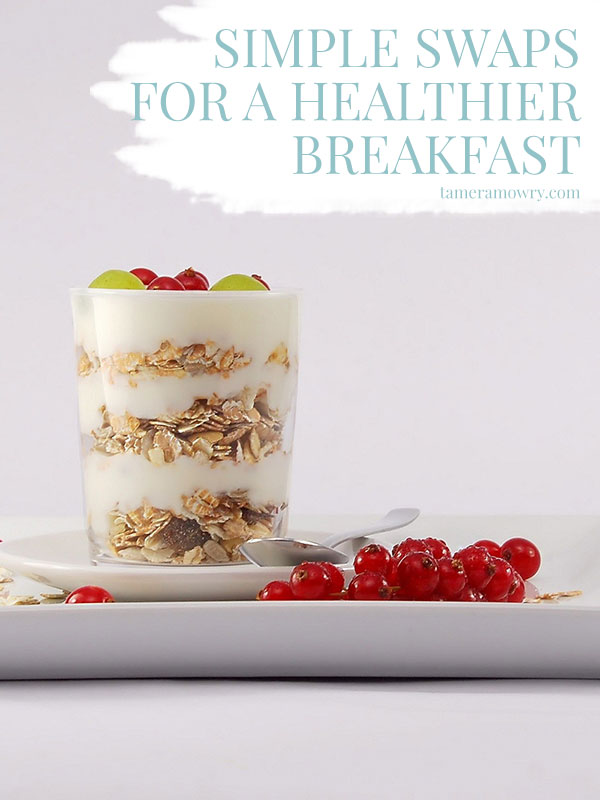 Breakfast 1) Instead of dressing up your morning toast with regular ol' butter, use almond butter or avocado. Both do a great job of keeping you fuller longer with healthy fats and protein, so you're getting a few added benefits. There's some evidence to suggest that almond butter is healthier than classic peanut butter, but PB is much more wallet friendly if you're on a budget. Plus, if you go the nut butter route, you can make this morning snack even healthier by slicing up an apple to use as a base, rather than toast.
Breakfast 2) Cereal is a go-to for many, but that doesn't mean it's healthy. Greek yogurt (which is much more protein packed than regular) and granola is a healthier swap, and just as quick. Be sure to check the nutritional contents of store-bought granolas though, as some brands can be just as loaded with sugar and additives as cereal. If you have the time, try a homemade granola recipe you can make the night before. And if you're craving something sweet, top with whole fruits rather than pair with store-bought juice.
Breakfast 3) In a major rush? Skip processed health food bars and opt for homemade energy bites instead. My recipe has 3-4 simple ingredients, and the best part? It's NO bake! Pair with an apple for a more well-rounded meal.
Breakfast 4) Whip up a breakfast smoothie. If you're not used to making your smoothies at home, you'd never believe that they were just as easy and way healthier than downing that OJ in the morning. You can use Greek yogurt as a base to reap the benefits listed above, and add whatever fruits you're craving in all at once. If you're not a spinach lover but want to get your daily greens, you can even add a small handful to most fruit smoothies without altering the taste much at all.
Breakfast 5) Eggs and veggies. Bacon and egg scrambles can take time in the morning, but sunny side or fried eggs are much faster and taste great with quick cooking veggies like zucchini, yellow squash and onions. Simply chop 'em up, throw in a pan with coconut oil, and top with one freshly made egg for a yummy, easy breakfast bowl.
Breakfast 6) Breakfast muffins. Here's a great trick for when you want to plan ahead for a busy week. I've seen a recipes for egg muffins all over Pinterest (try these 50 calorie muffins or these 3-ingredient Paleo egg nests) and they're usually super quick to whip up in a muffin tin and can provide days of healthy breakfast or mid day snacks. When made with whole food ingredients, they'll keep you energized without the crash that sugary store bought muffins and pastries often come with.
Will you be giving any of these healthy breakfast ideas a try? Let me know if you do!
Xx,
Tamera