The temps have finally dropped here in California, making for chilly evenings and nights spent inside. But no matter where you are, I'm sure many of you could use a date night ASAP – I know Adam and I could! The holiday season is just a perfect time to rekindle the romance. And since wallets are stretched with gift costs and entertaining expenses, I made sure that these 5 ideas for a cozy date night in were as cheap as could be: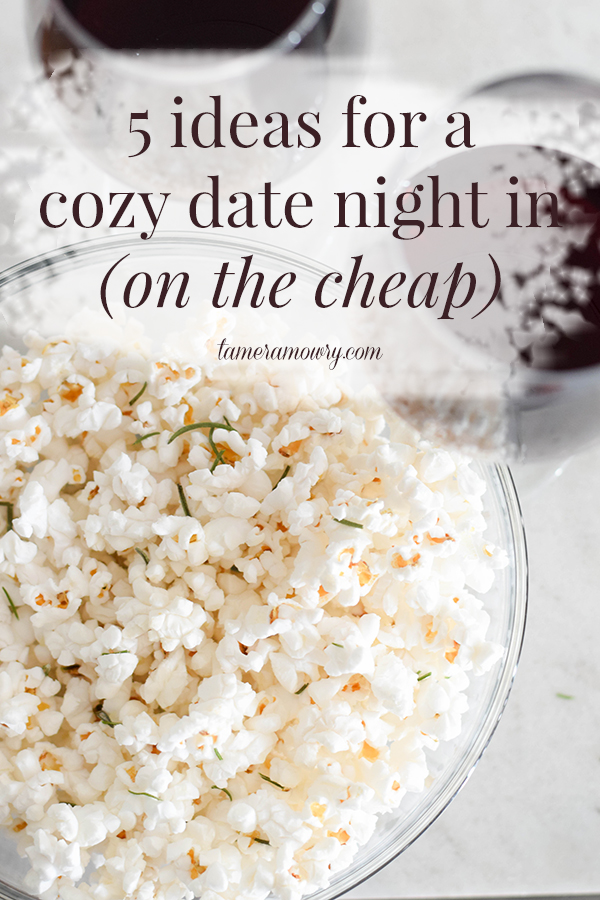 1. Game night for two. Game nights usually come to mind when you have a group of friends to entertain, but it's surprisingly fun as a party of two too! Board games and card games are perfect for nights you seriously need to unplug as a couple. Cook up a meal, pour a glass of wine and break out a classic game.
2. Gourmet movie night. If you and your partner have been together for many moons, you're probably used to the those "veg on the couch" evenings. Spice them up with a craft cocktail or homemade cocoa, and whip up a few different flavored popcorns before settling in. (Try sprinkling popcorn with rosemary + parmesan, or another recipe from this article.)
3. Double date dinner. If you're used to meeting your couple friends out for dinners and drinks, why not bring the party inside? Decide on a dinner and cook together while catching up. This is especially good for busy couples that haven't been able to make much time for a social life this season. Much needed!
4. Make gingerbread houses. The holidays are full of family-friendly activities, but it's just as important for you and your hubby to create memories as a couple too, not just mom and dad. Try something lighthearted like making a gingerbread house or decorating homemade cookies for a festive, low-key night you'll remember.
5. Start a marriage bucket list. Have you and your spouse done this before? If you've never written a list of things you'd like to experience as a couple, save this one for when the weather has you stuck inside with no plans. Writing down all the things you want to do together will inspire you to plan fun activities for the new year. Gotta love getting inspired :)
What's your ideal date night in?
Xx,
Tamera