When thinking of new years resolutions, I always like to throw something beauty or fashion related into the mix. Things like health, relationships, and career make for our greatest goals – but I find that a few related to my passions or the things I just find interesting keep life inspiring when times get busy. Along those lines, these beauty habits to break could be affecting not just your makeover – but the health of your skin, too…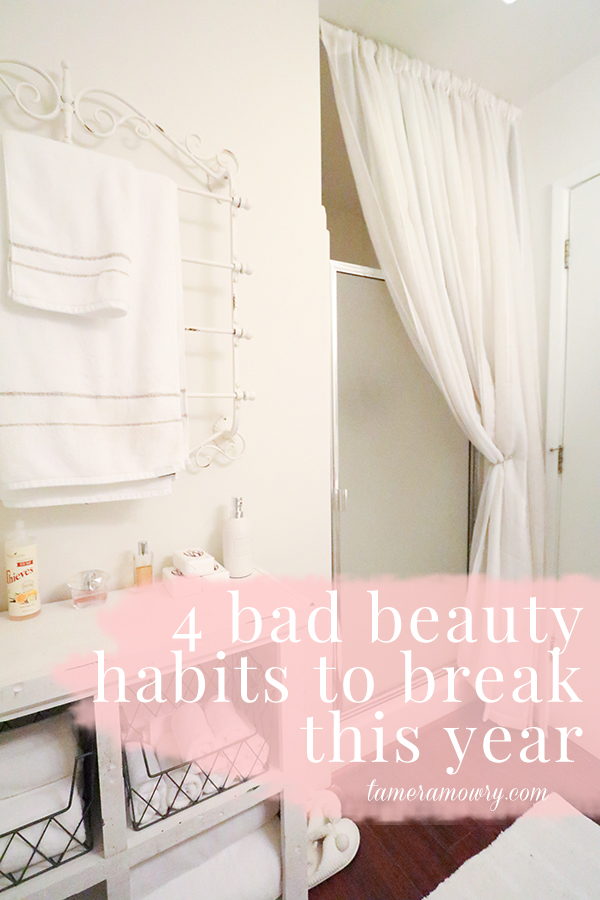 1. Not washing your makeup brushes. Every time you dab on that powder or cream, you're leaving makeup behind. Just like the dishes in your sink, makeup brushes need a proper cleaning. Dirty makeup brushes aren't just homes for bacteria which could be leading to breakouts, they also make application a lot harder, from achieving smooth foundations to covering up dark spots. Make this the year you give them a regular clean!
2. Sticking to the same skincare routine all year. Skin has different needs depending on the weather, so switching up your skincare routine and products at least seasonally can be a huge help. Even more important if you travel to different regions a lot. For example, when the temps cool off, I switch to heavier moisturizers and lighter cleansers (see why here), whereas in summer I simplify my makeup routine and swap heavy creams for mild ones.
3. Wearing the wrong shades. If you haven't gotten your skin matched for foundation before, you're missing out! Spend a day at the beauty counter drilling your local beauty experts for opinions, and get specific – which foundation is best for me? which eyeshadow colors complement me best? which mascara is right for MY lashes? There's no one size fits all approach to makeup. Get opinions from a few experts and invest in only products that you truly love. This will save major $$ in the budget, and you'll be a lot more confident knowing you've got the makeup knowledge you need to flaunt it confidently.
4. Skipping facials. Daily cleansing and a basic skincare routine are musts for anyone's skin, but not everyone has a professional facial as part of their skincare routine. While it's a bit of an investment, a facial is so effective at unclogging pores and blackheads, helping acne, and deeply hydrate skin that the benefits often make it worthy. You might even end up spending less on other treatments in the long term!
Do you have any beauty-related resolutions this year?
Xx,
Tamera