You know what they say: the hardest part of anything is getting started. But it's even harder when you don't know how or where to start. If it's been awhile since you worked out regularly or you're new to the game, you probably have a lot of ideas swirling around your head about what a fitness routine looks like. (Any stereotypes coming to mind right now?) But once you get over the mental hurdle of what you think you can or can't do and know that you're capable of starting and sticking to a routine, you'll be ready to dive in.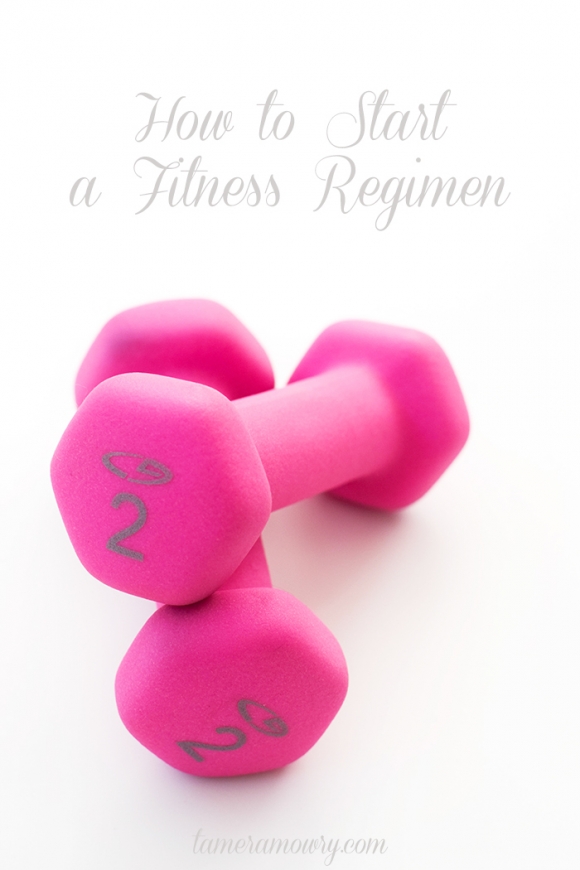 So, where to begin? In starting an exercise regimen, there's a few things to consider:
What are your goals? Write down why you're starting a regimen and what's important to you. Be specific; instead of saying "to be stronger" you might say "to be able to lift my child" etc. These will help when you choose the type of regimen!
 What types of activity do you like? Don't think strictly workout, but what kinds of actions you've always enjoyed, like hiking, walking, sports, etc. You can translate this into a real regimen soon.
How much time + money can you commit? Think about how often you'll realistically commit to a workout, such as 30 minutes a day or an hour three times a week. Also think about whether you can afford a gym membership, fitness classes, or personal training sessions. If they're not in the budget right now, that's totally okay—there are plenty of free ways to get active.
Now that you've sorted out your "musts", you can begin exploring regimens. I won't go into crazy detail here, but I definitely suggest taking all of the above into account. If you like outdoor activity, for example, consider jogging in your neighborhood or morning hikes as an option—especially if you're looking for free ways to get in shape. Or, if you have a budget and want to learn a very specific type of exercise, research classes you can take to build your skills.
Lastly, here are three more tips for when you're ready to begin:
Talk to a pro. Consult a doctor, personal trainer, teacher, or even just the friendly faces that greet you at the gym—so you can begin with confidence. If you're a generally active person, you may not think it necessary, but remember that they're trained to know all the ins and outs. Even simply taking the introductory tour at a gym can put you at ease when it comes time to climb on those machines.
Find a buddy—if you want. Some people like working out solo to clear their heads and focus inward, but if that's not you (or something you want to work up to), that's fine! Recruit a friend who will encourage and motivate. If that's not an option, consider group activities such as Pilates or Spin class—though they're completed individually, the energy from the group setting will inspire you.
Take it slow. Working out is all about working up. There are plenty of areas in life where you can just dive in and see what works, but when it comes to physical health, you want to do it right—trust me, it's not worth an injury! Find a balance between pushing yourself and knowing your limits and you'll find it easy to make this lifestyle change truly stick.
Once you figure these things out, you can narrow it down and tailor your regimen. Click here to read my tips on finding the right fitness routine for you.
What's your workout regimen?
Xx,
Tamera