Now that it's August, it's time to start transitioning to fall with fashion. Don't worry, this doesn't mean you have to replace your wardrobe with sweaters and rain boots, but it does give you the chance to try some new accessories that channel the cooler weather ahead! Speaking of, here are the best bags for fall…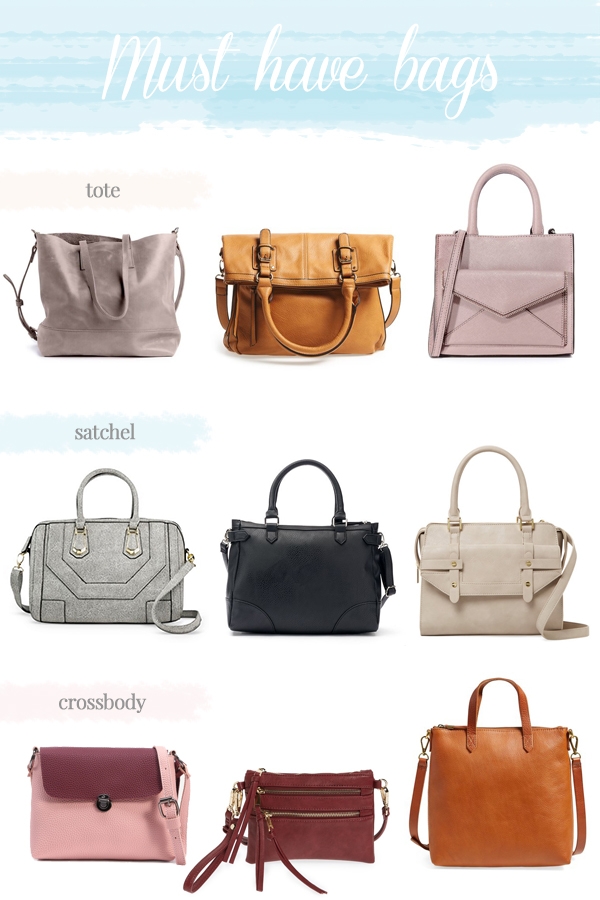 abera crossbody tote in pewter, sole society foldover tote in camel, Rebecca Minkoff mini leo tote, cracked print satchel, willow quilted satchel, pink tassel flap bag, olina small satchel, Madewell mini transport crossbody
Totes. Fall is the time to go big with accessories – with layers to wear and unpredictable weather to deal with, you want something that will carry everything you need on those days stopping by the house isn't possible. Enter, the tote! Use it for lugging your fall beauty essentials, carrying a good book or even stashing baby necessities… It all fits in here. Isn't that first one stunning?
Satchels. Satchels can be as roomy as totes, but often they're a bit more robust: with pockets, zips pouches, and a few different handling options, satchels can make more of a bold statement, so it's really all about the style you prefer.
Crossbody Bags. A good crossbody is essential for on the go (#momlife) use because you can carry JUST what you need and toss it to the side of you. But for those of you that just can't commit to a small bag, Madewell has a crossbody that's like a tote but more functional.
Each season brings with it events that require different bags for different occasions, you might want to go with with one larger bag and a smaller size too. In that case, my tip is to invest in the one you'll use the most, and look for a deal when it comes to the one that will have occasional use – you won't be as reliant on it and can get away with a cheaper version.

Is there a back-to-school shopping list for grownups? Lol. Let me know which bag is your fave!
Xx,
Tamera