Did you see my last post on quality time with Aden? I think pretty much everyone knows how much he loves trains at this point. Well, Ariah has been getting into trains herself – which is no surprise since of course she wants to do the things her big bro does. Turns out, this newfound interest is teaching Aden all about sharing.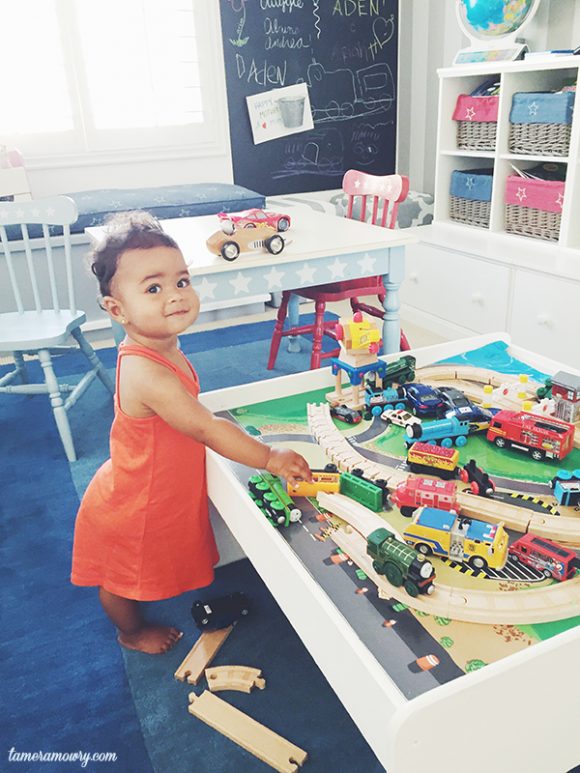 They love those trains.
Little ones only begin grasping the whole sharing concept at age three or so, so Aden had had a little experience in it by the time we brought his little sis home. Of course – this is no playdate – this is a sibling, so he's going to be making compromises and taking turns for a long time to come.
When it comes to teaching siblings to take turns with each other, it's all about teaching kindness and generosity toward the ones you love. This is complicated for a toddler, most especially one that's recently had to learn how to share mom and dad, but there are lots of little ways to teach these lessons.
Sometimes you have to tell little ones that the reason their little bro or sis wants to play with their toys is that they want to be included. For example, perhaps Ariah wants to play because she sees Aden having so much fun and wants to have fun too.
Just like I mentioned when talking about teaching kids to be gentle, it's important to acknowledge the feeling behind the action. If a child doesn't want to share, you can say something like, "I know you really love this toy, but since it's such a great toy, other kids want to play with it too". It helps them work through what seems like someone just interrupting their playtime.
Like most hurdles we have to cross in parenting, sharing is one of those things that you can't really make up one single rule for. Sometimes it makes sense to intervene, and sometimes it doesn't, so here are a few tips you might find helpful!
Introduce the concept of taking turns, rather than taking away, especially if it's something they'll get back
Use a timer – kids need that concrete timeline
We all have certain things we like to keep to ourselves – each child might have extra special items that are theirs alone
Model the behavior to reinforce that everyone does this
And a few tips for new moms – As a parent, you'll find that the way you handle things may differ from another's method. This can become an issue at the playground or on play dates. Try to keep an open mind, but know that you define how you parent. You might be teaching a lesson in sharing while another mom is teaching a lesson in patience. With little ones, there is so much for them to learn!
Things like sharing and playing together are something we're balancing with individual quality time, which is another important topic. How do you approach the sharing issue between your children?
Xx,
Tamera