Recently I shared how much fun Aden and I have playing together. We also love to do crafts. With littles of toddler age, it's important to find crafts that are fun and keep their attention (harder than you'd think!), yet encourage learning and creativity! It sounds complicated, but once you get into the crazy world of crafts, you'll find that the possibilities are endless. It's always fun to get our imaginations going as parents too.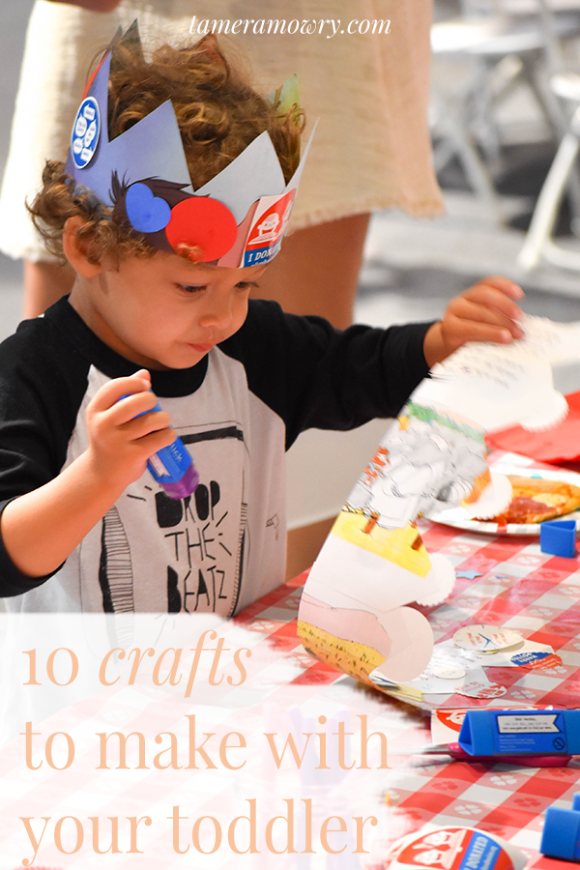 Have you been on my Pinterest lately? I'm all about finding new crafts to try. Here are some of my faves you might want to give a try!
1. DIY Crown – Parents can create crown templates and lay out all the supplies for kids to paste onto their very own crown. Think colored paper, stickers and crayons. Aden loved this one!
2. Paper Plate Caterpillar – It's amazing how much you can do with a simple paper plate! Cut out the caterpillar and let them run wild with decorations.
3. Potato Stamping – You create the stamp from a potato, and they create their own work of art with the different shapes.
4. Toddler Mural – Create no-mess workstation for your child to create works of art again and again.
5. Popsicle Stick Frames – This craft is something mommas can easily whip up and attach photos to for personal home décor, but it's even more special if your kids can help paint or decorate the popsicle sticks.
6. Ocean Themed Crafts – It's always nice when a craft also offers up a sneaky lesson! Create ocean creatures while teaching toddlers about sea life.
7. Paper Popsicles – These popsicles are so cute for summer! Cut out popsicle shapes from cardstock and create paper embellishments for little ones to add to each one. Once your done, you can display them on the fridge or string them together for a summer garland.
8. Shape Sorting Activity – Create different shapes and colors from paper to make color sorting game to play afterward.
9. Cupcake Factory – Similar to the popsicle idea, you can do the cutting beforehand and sort all the pieces for your child to make paper cupcakes with. Then you can both decorate them together.
10. Nature Paintbrushes – This is a really fun and original idea that can involve the whole fam. Go out in search of sticks and leaves. Then you can create "paintbrushes" from your findings and kids can use them to paint pictures!
What crafty things have you made with your kids lately? Stay tuned for some DIY projects of our own!
Xx,
Tamera