Hostess tip for all you ladies entertaining this summer: homemade doesn't have to be hard. Don't over complicate things. It's easy to get caught up in the baking, recipe creating, décor hunting, color pairing madness of holidays, but you know what? It's summer. 'Tis the season of family fun and casual holidays.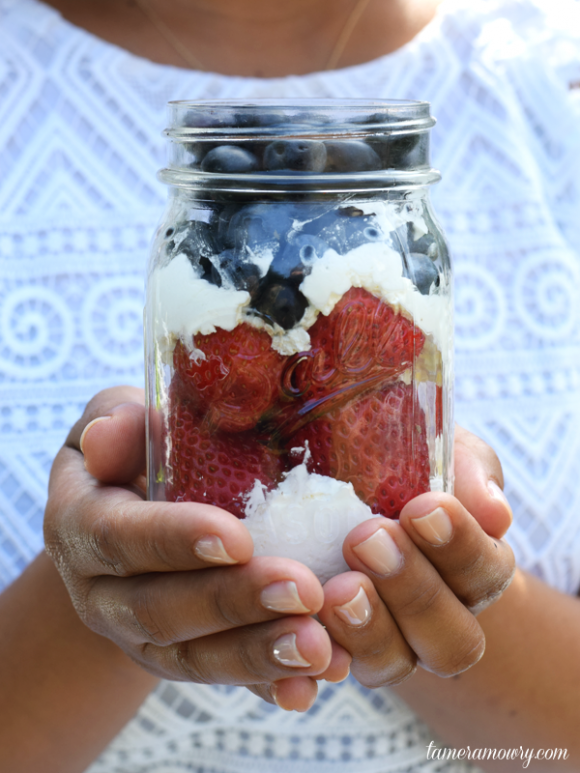 You can whip up a signature recipe or two and still have time to actually hangout with everyone that's lounging in your backyard too, especially with a dessert like a classic berries and cream in a mason jar. Like a parfait without the granola or trifle without the angel food cake, this layered dish has a patriotic flair without any baking or prep mess! Here's how it's done:
Ingredients (for each mason jar):
–  1/2 cup strawberries
– 1/3 cup blueberries
– whipped cream mixture to layer in between (cool whip, store bought or homemade, + 1/8 tsp vanilla extract + 1 spoonful of plain yogurt for each mason jar)
Directions:
1. Create whipped cream mixture by mixing the three ingredients with a spoon until blended and vanilla is distributed.
2. Layer cream, one set of berries, cream, and top with last set of berries.
3. Grab a spoon and enjoy!
Do you have any 4th of July staples?
Xx,
Tamera